Uncork Paso Robles Wine Country
Private Luxury Wine Tours | Corporate Groups & Leisure Travelers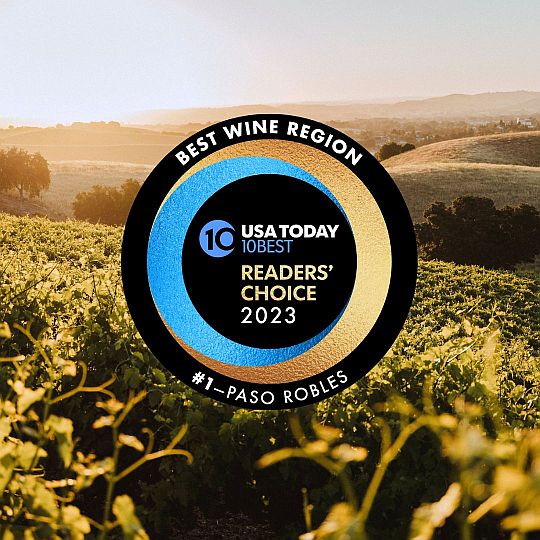 Paso Robles wins Best Wine Region of the Year in USA Today's 2023 Reader's Choice Awards and Breakaway Tours Wine and Events has been Uncorking it since 1995! Venture with us off the beaten path and beyond the tasting bar on your next wine tasting adventure.
Paso Robles, CA's fastest growing wine region, and affectionately known as "Paso," is celebrated for its maverick wine makers crafting bold red wines and unique blends. Brimming with engaging boutique wineries alongside prominent large estates, there is so much to discover and taste!
With close to 250 wineries, planning a Paso Wine Tour can feel overwhelming. As the longest running Wine Tour Operator on the Central Coast, our deep roots and long-time connections offer our guests unmatched access and privileges. We're here to curate a seamless experience for you from start to finish. Our services include, but are not limited to:
Bespoke Itinerary with Winery Appointments: Collaboratively crafted to match your palate.
Artisan Winery Picnic Lunch: Locally sourced ingredients, organic when possible. (Other dining options available to suit your preferences)
Behind the Scenes: Winery production and/or vineyard tour. Where the magic begins.
VIP Wine Tasting Experiences: Indoor elegance or rustic hilltops.
Friendly, Knowledgeable Guides: Locals, eager to share.
Door-to-Door Service: Ground transportation for groups of any size.
Concierge Service: Best dining & activity recommendations.
Commercially Licensed & Insured Drivers & Vehicles: Ensuring your safety and security.
Drug & Alcohol Tested: Random screening for your peace of mind.
Go Beyond Wine 101 and Drink Deeper with these options.
Come and explore the stunning Paso Robles Wine Country with us, get ready for an Ah-Mazing wine tasting adventure! Discover what the USA Today readers already know and why they voted this beauty #1 Wine Region of the Year in 2023! Cheers!