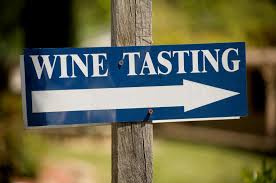 The image of the wine country visitor sidling confidently up to the wine bar, her swirling technique down pat, is an iconic one. But the reality is, it's not always clear what to do, and – perhaps more critically – what not to do once you've arrived at the tasting room. Herein, tips on how to ace this vinous activity.
The Itinerary
The majority of wineries on the Central Coast are open to the general public 5-7 days a week depending on the season, but some are only open on weekends or by appointment; call ahead to ensure you're able to go where you want.
This goes for groups, especially. Most wineries need to make special arrangements for groups of 6 or more, and some are not able to accommodate groups at all. Special arrangements may be needed for large vehicles such as limousines and tour buses, too.
Tours are offered at many wineries, and reservations for these activities are often strongly advised or even required. Especially on busy weekends, calling ahead to reserve tours or private tastings is essential.
Touring wine country with kids can be a fun family activity, and kid-friendly wineries abound, but call first to make sure the spots where you plan to stop fit this category. Same goes for your four-legged fuzzy kids.
Be Prepared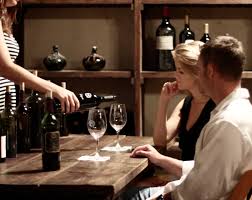 Wearing comfortable and casually elegant clothing to tasting rooms sets the tone for a sophisticated outing and is a sign of respect for wineries. You should always be comfortable,
Be sure to take weather-appropriate gear (e.g. jackets and sturdy shoes during the rainy season; lighter clothing, hats and sunscreen in peak summer periods), especially if outdoor activities like vineyard treks and picnics are on your agenda.
Don't wear perfume or heavily scented cologne to tasting rooms; the scents can overwhelm the subtle aromas in wine – and interfere with your own and others' experience.
Quick note on decorum: Wineries are wineries, not bars. Although alcohol is being served, it's a relaxed and conversational environment. Save loud banter and raucous activities for later!
                
The Nitty Gritty 
Fees to taste are standard operating procedure at most wineries, though some still offer complimentary or very low-cost tastes. Many will waive tasting fees with a wine purchase (which takes some of the sting out of higher fees), so be sure to inquire about such incentives.
Splitting a tasting with a companion is acceptable, especially in light of ever-higher fees and a need to avoid becoming overly inebriated. It's also a great way to stoke debate about the wines between you and your pal.
Splurge for a reserve tasting – when available, an optional sampling of a winery's higher-end or limited production wines – if you're interested in getting to know a spot's more rare and exclusive offerings.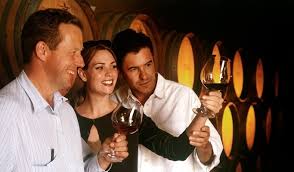 The Technique
It goes without saying that tasting is largely about having fun. But for those looking to glean the most from the wines on pour, swirling is a great way to stoke (read: aerate) wine's myriad aromas. For maximum control, place your glass on a flat surface and swirl while grasping the stem.
When tasting, hold glasses by the stem rather than the bowl; holding them by the bowl coats glasses in greasy fingerprints and can disturb the temperature of the wine (ideally it's been poured at just the right temp).
Inhale deeply before taking a sip; wine's aromas comprise one of its most beguiling offerings! Upon drinking, swirl the wine around in your mouth to ensure it coats all the surfaces; we pick up different texture and flavor sensations in different parts of our mouths.
Taste white and lighter wines before heavier wines, such as bold reds, and save the sweetest wines for last. This ensures the boldest and sweetest wines don't overwhelm the more delicate ones you sip first. Wineries know their wines best and will structure your tasting experience to present all the wines in the best light.
                                         
The Quantity  
Pacing yourself is a critical if not often talked about aspect of tasting. Build moderation into your day by selecting a manageable three or four wineries to visit. Incorporating activities like tours and a big lunch breaks up the day and ensures you do more than just drink.
When at wineries, make use of  tasting buckets (dump buckets) – ask for one if it's not at the ready. Spitting all or a portion of the wine you taste will help you to remain alert and get the most out of your experience. Never feel obliged to finish a taste.
Keep tabs on how much you're consuming. Typically, wineries dispense tastes in the size of one-ounce pours. As a reference point, there are four to six ounces of wine in a typical glass; know your limit and spit or stop when you've reached it.
Drink plenty of water to stave off dehydration
Always have a designated driver, or better yet – let Breakaway Tours take the wheel!
The Buy   
Purchasing wines you've enjoyed is a great way to keep the memory going once you're back at home. Make sure you're aware of shipping laws applying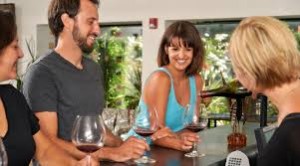 to your state if you need to ship wine back home; if you're flying, consult your airline about weight, quantity and liquid restrictions. Tasting rooms are well equipped to help you figure out if shipping is a viable option for you, so feel free to ask!
Again, tasting fees may be waived or reduced if you purchase wine on your visit. Be sure to inquire about such incentives; you may find that you spend the same amount or only slightly than you would for a tasting by purchasing a bottle. Tasting rooms exist to sell you wine.
Most wineries have wine clubs that offer periodic shipments of wine on an ongoing basis. Besides the wines that come with memberships, benefits and perks abound. These may include complimentary tastings, release parties, access to limited release wines,  and discounts on wine purchases.  Don't hesitate to ask about membership price, quantities shipped, when they're shipped, and any other perks that might be included.
Following these tips should ensure a smooth wine country visit and – even better – afford you the ability to focus on making memories rather than sweating the details.
Cheers to that!