Tempranillo is one of the world's greatest wines, but one that sadly is too often overlooked by many wine enthusiasts.
Capable of great aging, the winemakers of Spain have been aging these wines ten or more years before releasing them to the public for consumption for centuries.  These are wines of wonderful complexity and finesse when they mature and can be an absolute joy when you find a good one. The most common fine red wine grape used in Spain, it is arguably at its best in Rioja and Ribera del Duero regions with references to its production found in literature from as far back as the 13th century. It is also widely used in the Duaro region of Portugal where it is known as Tinto Roriz and a major grape used in Port wine blends. None of this is lost on many of the winemakers of California who have been searching around the world for grapes that do well in the Mediterranean climate found here, and Tempranillo was a natural. This is a grape that has an affinity for mountainous terrains as well as areas that offer a great diurnal shift (the difference between the hottest and coolest part of the day- Hello Paso Robles!!) The grape first made its way to California in the early 1900s, but was planted in areas not ideal for vineyards and some particularly prone to Phylloxera, causing significant issues with its continued cultivation. Often used as part of inexpensive red wine blends it didn't receive fine wine status here until the last ten years or so when it was finally planted to the regions that support it's viticultural requirements.
Cultivation: A thick skinned black grape that forms fairly tight clusters, Tempranillo is particularly susceptible to pests and mildew. Luckily it is a grape that buds late and ripens early. providing less opportunity to be affected by inclement weather. One unfortunate feature of the grape is that it swells in humid weather, negatively impacting its color and flavor intensity. The good acidity levels demanded of a well made version of this wine requires that its tendency to lower acidity be mitigated by growing it in locations with significant daily temperature swings and blending it with another red wine to ensure its aging ability. This is a vine that particularly likes chalky or calcareous sandy soils or iron rich clays, preferably located on hillsides. Besides California, Portugal, and Spain, Tempranillo is often found in southern France, Chile and Argentina.
Flavor Profiles: Flavor profiles and winemaking style can vary significantly between its home in Spain and the versions being made in California. However, there are some significant similarities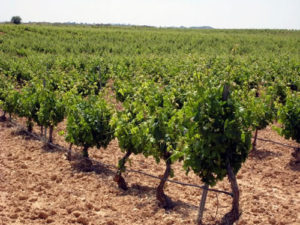 such as red cherries, strawberries, red berries and red plum, as well as a propensity towards an herbal quality, often dill. Both versions often contain the essence of tobacco, vanilla, leather, coffee and tea. The American version can often be quite full bodied wines with significant up front fruit and can resemble a Cabernet Sauvignon with less tannin and generally more acidity. The Spanish versions are generally aged in old American oak and tend towards great vanilla flavor and an earthiness that is less evident in American versions. Aged Rioja versions tend more towards elegant and earthy and can be quite delicate if older making them more reminiscent of a Burgundian Pinot.
Wine Pairing Considerations: Pair Tempranillo with similar foods that you would pair with Cabernet Sauvignon or Pinot Noir. It works beautifully with lamb and beef, but because of its good acidity when made well and not overpowering body; can work with bolder fish such as salmon and ahi. A perfect bridge ingredient is dill, an herbal quality often found in the nose of the wine, as well as mushrooms with that great earthiness they share with the wine. Also consider using it with sausage, roast pork and most styles of chicken.
Major California Growing Regions: Clarksburg, Lodi, Paso Robles, San Luis Obispo, Sierra Foothills, Sonoma County.