Champagne Cocktails: A Festive way to Dress up your Bubbly!
An LBD for your Champagne!
Die hard champagne enthusiasts may consider us sacrilege to add other ingredients to such a beautiful wine, but here at Breakaway Tours, we just love to experiment. Including champagne in a recipe can make a great cocktail really spectacular, especially around the Holidays. After all, you shouldn't be the only one dressing up for those amazing parties. Let your favorite sparkling wine in on the action!
Champagne is a sparkling wine of great distinction – turning any occasion into something a little more special. There are various styles of champagne: for example Brut (very dry) and Demi Sec (sweeter) as well as vintage (made from grapes of one specific year) and non vintage (grapes from blends produced in various years). To earn the right to have the word champagne on the bottle label however, the liquid inside must be entirely produced from Chardonnay, Pinot Meunier and Pinot Noir grapes grown in the Champagne region of Northern France around the cities of Reims and Epernay. The champagne producers guard their exclusive name vigorously and have in the past been to court to protect it as in 1993 when they went into battle to prevent the Yves Saint Laurent company producing a perfume called "Champagne" and won their case. It is one of the few "white wines" in the world produced from red grapes – due to the way they are gently pressed so as not to bruise the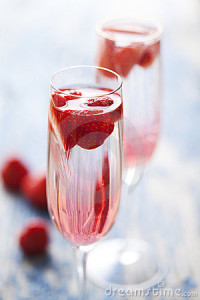 skins. There are also extraordinarily strict limits on the amount of juice that can be squeezed from a certain weight of grapes to maintain the highest quality of champagne produced.
Here we have selected a few of our favorite champagne cocktails for you to try out – we hope you enjoy making them. If champagne isn't your cup of tea, feel free to use Prosecco, Cava, or your favorite California Sparkling Wine for the occasion. We recommend: Laetitia Vineyards' NV Brut Cuvee $25, or Vina Robles Sparkling Brut NV $23. Serve all champagne/sparkling cocktails in a flute glass which allows the bubbles to move from the bottom to the top of the glass. The more space the bubbles have to move around in within the glass, the longer it will keep its fizz!
Classic Champagne Cocktail
Known as the 'Classic Champagne Cocktail', this libation is thought to have first originated from the winner of a New York Cocktail competition in 1899. A unique combination of ingredients – you'll be surprised by the result. Drip 4 dashes of Angostura Bitters on a sugar cube and place in the bottom of a champagne flute. Cover the cube with cognac and top up with champagne. Perhaps what seems most strange is that as you drink it the flavor changes from dry to sweet as the sugar cube slowly dissolves.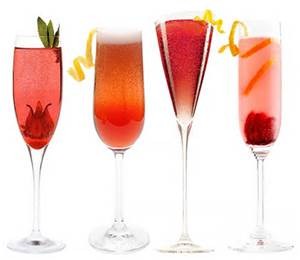 Champagne Charlie
This cocktail recipe is believed to have been named in tribute to the original 'Champagne Charlie' himself – Monsieur Charles-Camille Heidsieck who first launched the champagne brand bearing his name in 1851. Through his extensive travelling around the world to promote his champagne, he became well known for his charm and his adventures. This cocktail recipe is a fruity combination of Apricot Brandy topped up with champagne.
Emma Peel
A blend of Cherry Brandy and pineapple juice and yes you've guessed it – topped up with champagne. The Cherry Brandy and pineapple juice mix together to make a dusky pink colour and give it an exotic fruity tang. We think it's just like it's namesake Emma Peel , the British spy from the 60's classic TV romp, The Avengers!
The Kir Royale
Perhaps one of the best known champagne cocktail recipes is the Kir Royale. Named for it's inventor Felix Kir, mayor of Dijon in post-war France. It consists of a measure of  Crème de Cassis in a flute glass topped with champagne for a subtle pink hued cocktail.