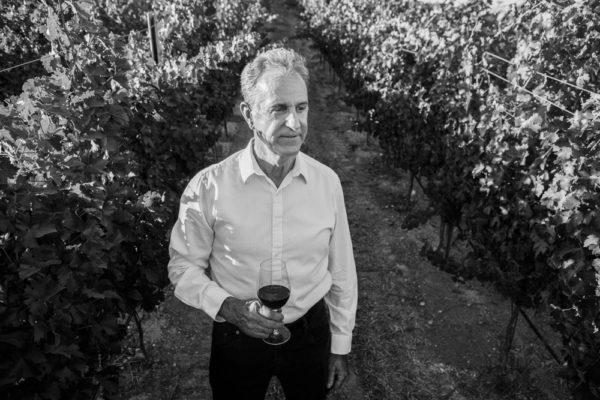 David Parrish, owner and winemaker at Parrish Family Vineyard has a long family history of wine making which is rooted deep in Atascadero and Paso Robles wine country. Inspired by the legacy of his grandfather Earl Henderson, David followed his passion for wine and began producing boutique wines from the vineyard in 2004.

BT: How long have you been working in wine and what prompted you to get started?
David: I've been in the industry for over 40 years, first starting in the vineyards with trellising. I graduated from UC Davis and then began working with many in the Napa Wine Industry, which inspired me to start my vineyard and eventually begin wine making. My grandpa Earl had vineyards in Atascadero in the 1920's, so I knew that I wanted to be close to that, so I planted our first 40 acres of Cabernet Sauvignon in 1995. That is the start of Parrish Family Vineyard.
BT: Did you study enology and viticulture formally before you started?
David: I took some classes at UC Davis. Otherwise, I study and read a lot. I've also gotten the opportunity to learn on the spot next to other winemakers, so that is valuable.
BT: Who are the key players on the Parrish Family team?
David: My whole team is crucial to the success of our winery. Each person brings a perspective and skill that benefits us as a whole. Of course, my daughter, Cecily, and my son-in-law, Ethan, are key to our team as they are the nuts and bolts and I [couldn't] embark on this dream without them. It's been really special to work with them.
"Passion is key as this isn't an easy business, but with that passion comes learning, hard work, and creativity."
BT: What's the best part of being a winemaker? 
David: I love that it is science meets art, but also, I enjoy the challenge of never knowing how each year is going to turn out. It's learning to adapt and grow. Each season [is] different. It's tough, but in the end, very rewarding.
BT: What's the hardest part?
David: The hardest part starts in the vineyard because you will never know what the season is going to bring. Then adjustments are made on the wine side to overcome the challenges seen in the vineyard. That is why it is not an exact science year in and year out.
BT: What is Parrish Family Vineyard looking forward to in the new year?
David: We are very excited to start our new tasting room in Adelaida in 2018. We have enjoyed our time and the community of our Downtown Paso tasting room, but we are really looking forward to sharing our full vision with guests at our new location in the midst of our vines.
BT: What can the guests expect when they visit your current tasting room and how will the experience in the new Adelaida tasting room differ?
David: This will change over the next year, but currently, we have a wonderful intimate tasting room in Downtown that features many of our wines along with pairings from local shops (cheese, charcuterie, and chocolate). It's a perfect stop for a glass before dinner. With the new tasting room, we will have more of our Estate wines coming out, new pairing experiences, tours, club experiences, and an overall beautiful location to enjoy wine. I can't give away everything, but I will just say we are very excited!
BT: What varietals do you love to work with?
David: I really am drawn to working with Bordeaux varieties the most. I think it is just because of my past with working in Napa, but I also enjoy drinking Bordeaux wines like Cabernet Sauvignon.

BT: Which of your current releases is your favorite? What do you like to pair it with?
David: That's tough, I love everything (not biased at all, huh). I'm really enjoying our 2013 Reserve Silken, which is a blend of Estate Cabernet Sauvignon and Petite Sirah. I love barbecuing. One of my favorites is a filet with truffle oil rubbed on top; minimum spices (salt and pepper only). We use oak from the ranch for our grill. It's delicious! We love it with some asparagus and baked potatoes. I'd say [the Silken] would go great with the filet. Or I could see it with bacon wrapped dates. 
BT: What wine do you drink when you aren't drinking Parrish Family?
David: I like trying everything. It keeps my palate alert. 
BT: Who are your wine heroes?
David: My grandfather for the vineyard 

side and Robert Mondavi, who inspired me while I worked with him in the 70's.

  
BT: What do you think is the secret to finding success as a winemaker today? 
David: Passion is key as this isn't an easy business, but with that passion comes learning, hard work, and creativity.