Don't even think of doing some grilling until you take a look at some of these amazing local wine pairings. Just in time for summer! Here's what to grab to compliment that perfectly charred masterpiece!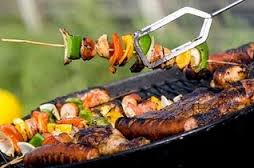 Grilled Veggies
Easy-to-sip Grüner Veltliner, Austria's star grape, snaps with grassy and apple notes. All those green overtones make it a good fit for any skewers stacked with vegetables, or a summer grain salad.
You may not immediately think of washing down that grilled eggplant or zucchini with Chardonnay, but you should.  After all, while some are heavy-handed with the oak, others surprise, unfurling lovely flavors of lime, cantaloupe, and pineapple. To make things simple look for a Chardonnay that retains fresh fruit flavors by doing time in stainless steel.
Zocker Wines – Gruner Veltliner 2013 $20.00
Chamisal Vineyards – Stainless Steel Chardonnay 2013 $18.00
Seafood
Marrying a seafood dish with white wine has long been tradition. For a piece of grilled fish, naked save for a few squirts of lemon and a light brushing of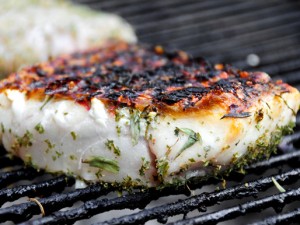 olive oil, seek out something complementary that ratchets up flavor instead of masking it. You cant go wrong with a local Sauvignon Blanc. Bright and fresh with some citrus and and good acid.
A meatier fish, like say, a swordfish steak, does need some backbone, and that's when I love a well structured Rhone blend.  Enjoy the floral aromatics and stone fruit of Viognier, the crisp acids and rich mouthfeel of Grenache Blanc, and the structure and minerality of Marsanne and Roussanne.
If you're grilling up a side of salmon or other softer-flavored fish, think of Pinot Gris. Unlike its ubiquitous cousin Pinot Grigio, the ones from the Central Coast tend to have more gumption thanks to a lively blend of citrus and mineral flavors.
Alta Maria Vineyards – Sauvignon Blanc 2013 $18.00
Tablas Creek Vineyard – Cotes de Tablas Blanc 2013 $27.00
Chicken
Often deemed a blah substitute for the array of smoky meats favored on the grill, chicken can be its most flavorful when seared over coals. While an everyday roast chicken goes well with, say, a delicate Cabernet Franc or Pinot Noir, a bird's time on the grill provides intriguing contrast to easy-drinking whites. A yeasty Verdelho , with aromatic peach and pear flavors with racy acidity. Another alternative: lighter and leaner Grenache Blanc is unfussy, fruity and a killer value.
A Greek Malvasia Bianca is another good bet. It's is fruity and floral, crackling with orange and grapefruit flavors. Pleasant acidity makes you happy to have it in your glass all dinner long.
Wild Horse Winery Verdelho 2013 $22.00
Clesi Winery Malvasia Bianca 2013 $20.00
Sausages
At first, a hearty red seems like a boon with grilled sausage. But given the meaty coils' predilection for spice and snap, Riesling—especially a dry Alsatian—provides a rush of acidity that enlivens like no other. Just think of all the sauerkraut-laden choucroute these German-speaking French eat with their Riesling day after day.
Solminer Wines Dry Reisling"Kick On" 2014 $28.00
Red is not verboten, of course. Just consider one that is soft and lush, devoid of overpowering tannins. Sausage of the lamb variety, say, a zesty Moroccan merguez, is an ideal match for a light and bright Pinot Noir.
Kynsi Winery Bien Nacido Pinot Noir 2011 $41.00
Burgers
No two burgers are made alike. Of course there is the basic version of the all-beef patty—that's going to get slid into a squishy Martin's potato roll and topped with cheese, (fresh-from-the-garden) tomatoes, and hopefully a smattering of raw onions and pickles. But your pals may have more gourmet hankerings, desiring to pile their burgers with a heady blue cheese or the sweet mango chutney they fell for at winery gift shop. These tweaks set the agenda for what should be in your glass.
In general, though, burgers make a fine pair with Zinfandel. It is simultaneously earthy and bursting with red fruit, exactly what you want to wash down a pink-in-the-middle, protein-packed sphere still redolent of charcoal.
Shale Oak Winery Zinfandel 2011 $32.00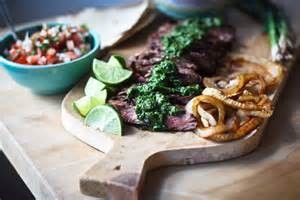 Steak
It's a familiar adage, one oft-repeated because it's true: steak and red wine are a pair for the ages. It does not mean, however, that the red in question needs to be a powerful Cabernet Sauvignon. Not only does that varietal instantly conjure a roaring fireplace—which has no place in summertime daydreams—buying a good bottle is often a pricey investment. Remember, you're at a cookout eating off paper plates, not a white tablecloth steakhouse. This is a good opportunity, then, to savor the depth of more offbeat gems. A Malbec, filled with plum and tobacco notes, is a suitable—and much more affordable—alternative to cut through a fatty, glistening steak. Or, reach for a bottle of Tempranillo. The Spanish varietal's thick-skinned indigenous grape yields a ruby liquid both high on tannins and acid. And more and more Central Coast winemakers are embracing this fierce grape. The combination of earth and spice adds luster to each morsel of that melt-in-your-mouth meat.
Niner Wines Estate Malbec 2012 $30.00
Force of Nature Tempranillo 2013 $22.50
Well, now I'm hungry. And thirsty. Time to put my money where my mouth is. Happy grilling!