You have slaved away for days to create the perfect Holiday meal. The sweat, the tears, the last minute runs to the market because you apparently *don't* have baking powder in your cupboard. Now what? Wine, of course! The good news is that this may be the easiest part of your Holiday celebration. Follow these helpful hints and suggestions for pairing your most delicious dishes with their perfect adult-beverage companions. And don't worry – we won't revoke your foodie card for going off the grid and bucking tradition. You will find no rules here, only a world of possibilities!
---
THE HEADLINERS



Ham & Pinot Noir
Every Thanksgiving my dad cooks a ham. It is magical. It is basted in sugar and spice and everything that is good about the world. My favorite wine to pair with this ham is an Edna Valley Pinot Noir. Edna's Pinots tend to be spicy and berry-rich, and light on tannins. A great partner for ham. Try pairing with Baileyana Winery's Halcon Rojo Pinot Noir/ $33
Turkey & Viognier

The star of the Holidays, this roasted bird is succulent, rich and delicious. It lords over the rest of the table like Brando in The Godfather, making our taste buds an offer they can't refuse. Traditionally paired with Chardonnay, I think its time we switch it up a bit and set Turkey up on a little date with my good friend Viognier. California is producing some amazing Vio's these days:  complex with hints of stone fruit, honey and minerals. Try pairing with Jaffurs Bien Nacido Viognier / $27
Don't hesitate to switch these two wines up, yummy either way!
---
THE BACKUP DANCERS



Brussels Sproutsb & Dry Reisling
I prefer mine roasted and crispy, with bacon, onions and toasted nuts. However you prepare them, these green machines are packed with flavor and just a hint of sweetness. I love a great Dry Reisling with some good acid and maybe a hint of effervescence. Try pairing with Claiborne & Churchill Winery Dry Reisling/ $22
Sweet Potatoes & Zinfandel

Paso Robles Zinfandels are a natural for this earthy yet sweet root. The moderate tannins and deep fruity flavors of zinfandel hold up well in this duo. Try pairing with Shale Oak Winery's Zinfandel/ $45
---
THE BREAKOUT STARS



Quinoa Stuffing & Grenache Rose
For those eschewing gluten for any reason, quinoa stuffing is a scrumptious alternative to bread based stuffings. For this particular dish I love a Grenache Rosé. It has enough sweetness to bring out the richness in the grain, but also balances with bright acid and fruit.  Try paining with Sextant Winery's Grenache Rose/ $21
Celery Root Puree & Teroldego, 2 standards to be sure!

Ok, so you probably didn't grow up with Celery Root around your Holiday table, but there's no reason not to invite this amazing side dish to this year's festivities! What's it taste like, you ask? It tastes like celery, yet heartier and earthier. It tastes like earthy Autumn. Because of the depth of the flavor here (did I say earthy enough?) Try pairing with Wolff Vineyards Teroldego/ $29. This wine matches the Celery Root step for step, bringing notes of forest fruit and black minerality.
---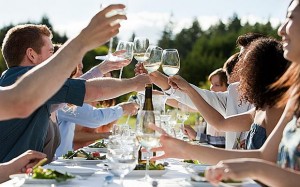 So, when you gather round with family and friends this Holiday season, enjoying your sister Hilary's perfect mashed potatoes, or Uncle David's classic Banana Cream Confection, you can start a new tradition: Bringing that incredible bottle of wine that everyone will still be talking about come New Year's.  Grab a bottle of wine listed above – you can do it without ever breaking a sweat or the bank! Drink up and let us know your thoughts, Gobble Gobble!