Viognier: A White Wine for Red Wine Drinkers?
As a self -professed lover of red wine, you may ask: is there a white wine you would recommend for red wine lovers? Something with body and bollocks, that I can enjoy as the days heat up and I need something cool in my glass?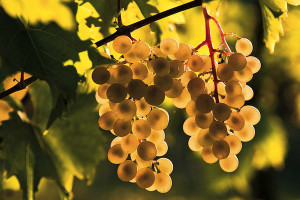 The answer is YES. The answer is Viognier.
In 1965 only a miserable 20 acres of Viognier (pronounced Vee-on-yay) grape existed in its Northern Rhône homeland appellation of Condrieu.
Amazing, since it is believed the grape had grown here for at least 2000 years, possibly transported to the Rhône from its birthplace in Dalmatia by the Romans.
Since 1965 the grape and its wine has steadily increased in popularity and in its quality, elevating it to 'serious drinker' level.
Condrieu is at the northern end of the Northern Rhône. It consists of seven communes located on steep terraced hills, where Viognier is the only variety of grape allowed in this appellation devoted solely to white wine. Any bottle originating from Condrieu is 100% Viognier. It is said that low yields, difficult growing conditions and late harvesting contribute to the exceptional, concentrated flavors of Condrieu Viognier.
During the 1990s winegrowers from other parts of the Rhône and further afield in France saw the mounting interest in Viognier. Initially the grape was grown to blend with other whites – and reds, bringing extra character to well know varieties, and softening the Syrah wines of the Côte Rôtie. Temperamental it may be but versatile for certain. In present day vineyards on the Central Coast of California it is increasingly being grown in its own right enlarging the range of pure Viognier wines on the shelves of specialist wine shops and supermarkets alike. Many of these wines are lighter, less concentrated that their Condrieu cousins. Nevertheless they retain something of the distinctive Viognier character of spring fruit and floral bouquet and they sell for around the $20-$30 mark …… well within the price range of most white wine drinkers.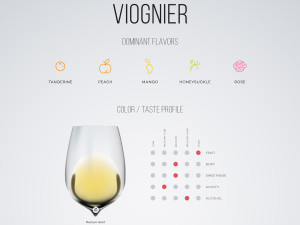 Viognier is a remarkably difficult grape to grow. It is prone to mildew, produces notoriously low and unpredictable yields, and needs to be picked when fully ripe. If it is picked too early it fails to develop its classic aromas and rich tastes. But despite, or perhaps because of, this precariousness fans enjoy the most amazing clear, golden color and the aroma of flowers and fruits in their glass. Many are surprised by the taste; the color and nose hinting at something sweeter but the wine itself showing dry with a variety of nuances both on the palate and finish.
In appreciating the surprising dryness of this wine don't miss out on the few bottles of late harvested, dessert wines that winemakers are producing.
This is the wine for everyone including the ABCers (Anything But Chardonnay), those are desperate for an alternative white wine that shows some character.
It is best known for its apricot, peach and spice flavors, together with high alcohol (often over the 13% mark) and medium acidity. As with many white wines it is generally best consumed young, although the classic Viogniers of the North Rhône (and increasingly wines from the oldest vines in California and Australia) can develop well for much longer.
You can drink it with many foods or none. Try matching it with spicy Thai cuisine, Chinese takeout, Mexican dishes, medium to strong salty cheeses, strong flavored fish dishes, pork and chicken and fresh fruit.
Call Breakaway Tours today to explore the amazing Viogniers offered right here on the Central Coast! Here are a few we're especially loving now:
Ranchero Cellars 2013 Viognier, Paso Robles $30
Zaca Mesa 2014 Viognier, Santa Ynez $18
Tolosa 2015 Viognier 1772, Edna Valley $38