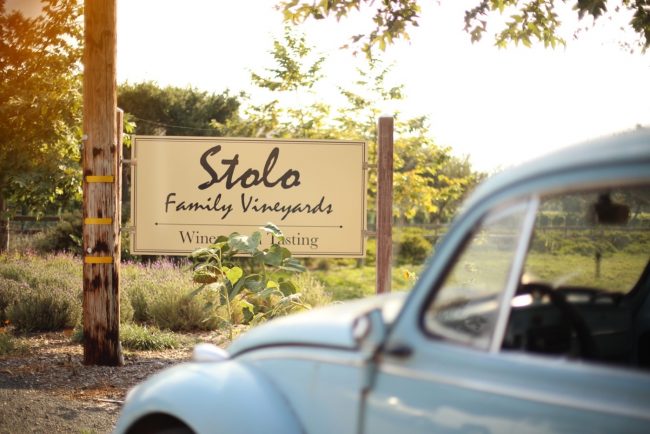 Stolo Family Vineyards is the only Estate winery and vineyard in Cambria and the surrounding area. Located just 3 miles east of the Pacific Ocean, Stolo is one of the closest vineyards to the California coast and uses the ideal cool climate growing conditions to produce award-winning wines like their 2014 Estate Syrah, voted #27 on the 2017 Wine Enthusiasts 100 list. 
Breakaway Tours (BT): Tell us about your role at Stolo Family Vineyards.
Nicole Bertotti Pope: I am the winemaker. We are a small winery, so I do most of the hands-on cellar work, along with [making] stylistic decisions, planning, and [the] record-keeping that goes along with winemaking.
BT: How long have you been working in the industry and what prompted you to get started?
Nicole: I started in the wine industry 12 years ago, right after graduation, working as a bar manager for a small wine bar. I became the buyer, setting up the wine lists, and had the opportunity to taste many different wines and learn a [little] about the sales side of things. Next, I wanted to learn more about winemaking, so I found a harvest internship and the rest was history.
I spent the first few years of my career doing harvests abroad (Australia and South Africa), before returning and working full time for several years at Domaine Carneros and Talley Vineyards, respectively. Both wineries were amazing places to learn about winemaking. The production side of the wine business was so intriguing, and I loved the energy, hard work, and passion of my co-workers in the winery.
BT: Do you have a formal education in winemaking? If so, what is it?
Nicole: I have taken several Enology and Viticulture classes, but my major at Cal Poly was Biological Sciences. Cal Poly didn't have the Enology major when I started there, but I took a lot of Chemistry, Biology, and Plant Science classes that have been helpful in my career. I think the best knowledge I have gained has come from my experiences at different wineries, learning from other winemakers, and dealing with every unique vintage.
"I loved the energy, hard work, and passion of my co-workers in the winery."

BT: What do you love about wine?
Nicole: Well, obviously, because it tastes delicious! But more than that, it is an endless world to learn about, whether tasting wines from different regions, varietals, producers, styles, vintages. It really goes on and on. 
BT: Any trends in wine that you love right now?
Nicole: I love the trend over the last several years towards wines that are bright, acid-driven, and less oaky and extracted. A big, extracted wine does have its place to impress, but for daily consumption and aging, I love wines with minerality, acidity, and (generally) lower alcohol levels.
BT: What are you favorite varietals to work with and why?
Nicole: I love working with Syrah because of how it really shows the place [it's] grown. In our region on the coast, it is really fun to see the cool climate aromatics come out as it ages in barrel. During fermentation, the aromas are also amazing, and I love the inky color that comes from the grapes.
BT: How far have you traveled for great wine? What's your bucket list wine destination?
Nicole: I did harvests in Australia and South Africa early in my career, and those are the furthest wine regions I have visited. It is on my bucket list to [make] a wine trip to France and Italy with my husband. The last time I was there, [I] was in college, and I would love to return now that I have more wine knowledge and connections in the business.
BT: What wines are you drinking when you aren't drinking your wines?
Nicole: I love drinking Champagne and other sparkling wines. If I could drink a glass every day, I would!
BT: What's your favorite harvest story?
Nicole: My craziest memory was during my first harvest, when one of the cellar interns accidentally drove his forklift into a tank, popping open the lower tank door on a tank full of Pinot grapes! Dealing with a cellar flooded with wine and watching as it flowed down the driveway was a sight to see. Definitely not funny at the time, but memorable for sure!


Thirsty for more? Subscribe and never miss a Deep Thoughts… feature