There's nothing better than cozying up next to the fire with a loved one on a cold winter's day. And while there's nothing wrong with cocoa, it's nice to warm up with something a little harder on occasion. If you're looking to up your holiday cocktail game with hot or cold cocktails or seasonal punches, follow along for some sip-worthy recipes that are sure to make this season merry and bright!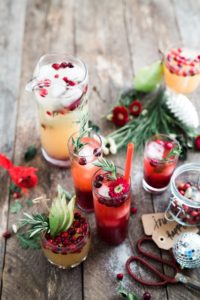 Fall Harvest Sangria from EatYourselfSkinny.com
Serves 6
Ingredients:
1 Bartlett pear
2 Honeycrisp apples
1 Orange
¼ cup pomegranate
2 cinnamon sticks
2 ½ cups apple cider, fresh
1 cup club soda
1 (750ml) bottle favorite white wine
½ cup vodka
Instructions:
Place chopped apples, pears, orange slices, pomegranate seeds and cinnamon sticks in a large pitcher. Pour in wine, apple cider, and vodka and mix well.
Allow flavors to marinate in the fridge a few hours before serving then add club soda. The longer it sits the better!
Bourbon Pecan Pie Cocktail from BasilandBubbles.com
Makes 1 Cocktail
Ingredients:
1 ounce Maker's Mark Bourbon
1 ½ ounce Evangieline Pecan Praline liqueur
½ ounce vodka of your choice
Instructions:
Pour all ingredients over ice and stir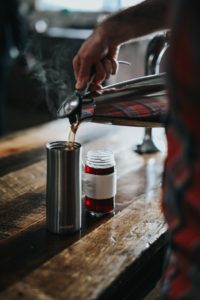 Holiday Spiced Mulled Wine from JoyfulHealthyEats.com 
Makes 1 Cocktail
Ingredients:
1 orange
1 Pink Lady apple
¼ cup honey
1 cinnamon stick
3 cloves, whole
2 star anise
1/3 cup brandy
1 bottle red wine
Instructions:
Add all of the ingredients to a medium sauce pan or Dutch oven. Cover.
Turn burners to medium heat and let simmer for 30 minutes.
Serve!
Cranberry Margaritas from GimmeSomeOven.com
Makes about 3 cups
Ingredients:
1 ½ cups 100% cranberry juice
¾ cup fresh lime juice
¾ cup tequila
½ cup orange-flavored liqueur, such as Cointreau or Triple Sec
ice cubs
Instructions:
Stir all ingredients together until blended. Serve