Veraison, an annual benchmark in the winegrape growing season, is officially underway.
Known as the onset of ripening, veraison marks the colorful transition from grape growth to grape ripening, resulting in several changes in fruit development.  They not only change color, but they begin to increase in weight and volume as well.
Most dramatically, red winegrapes slowly turn from green to red and purple while white winegrapes change from green to a golden yellow, becoming more translucent. This process occurs over a lengthy period of time and each grape variety ripens at a different rate. Veraison marks an important turning point as the nutrients and fuel for growth shirt from growing vines and roots to growing fruit.
With harvest typically occurring 60-75 days from 50% veraison, growers anticipate that the 2016 harvest could begin as early as September, so keep an eye on the grapes.
During this time of year, other activities are taking place in the vineyard as well. Vine growth is robust and grape growers are actively caring for leaf canopies to prevent sunburn of the grapes and managing the vineyard floor to minimize weeds, vineyard pests, and hold on to the remaining moisture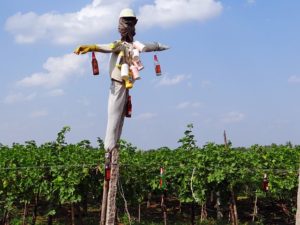 that exists in the soil profile. A variety of methods are used to protect the precious fruit from predators – mainly birds – such as netting, reflective mylar materials, and even good old-fashioned scarecrows!
While there are still several weeks ahead until harvest, and much still depends on the weather between now and fall,  it appears to be shaping up to be another excellent vintage for 2016 her on the Central Coast!